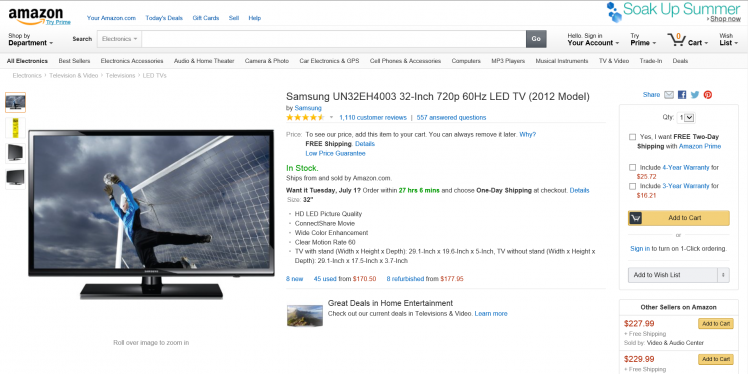 At Amazon.com you can buy just about anything. Still, it is public secret t that 80% of their sales are generated from products that are sold exclusively at Amazon. Never mind the fact that the company is the leading online retailer boasting the largest customer base, a quick website featuring detailed descriptions and contents, an excellent user interface and so on. Just look at the prices of any of the technical products and you will get the picture. It's the price. The main obstacle is the high price.
Being the only provider of a certain item and offering your products only at a website such as Amazon.com, you can achieve great sales results. Having come to the same conclusion, many Americans and other vendors rely on just one website such as Alibaba.com, eBay.com or Amazon.com or, alternatively, just a handful of online stores to sell their products.
Do you want to know why this is a good thing?
Manufacturers who dominate classic sales channels have an interest that their products take up as much of the sales' area in as many stores as possible. Some opt for a smaller number of intermediaries who meet certain criteria to assist them in this process, but regardless whether they decide to set up an intensive or selective sales' path, they are always on the lookout for more intermediaries. In certain fields exclusivity is rare. Buyers are looking for providers offering the best deals, but retailers can maintain different prices on account of their personal approach and special bonuses without being in direct competition with each other, even though they are only a block or two apart.
The internet on the other hand is a very different animal. The internet is about transparency; it is also about a unique mix of indirect and direct sales. It's a whole new model. The manufacturer or provider can offer their product or service directly to the shopper, albeit indirectly via an online service such as Amazon.com or enaA.com, but this does not diminish the fact that this is a direct selling technique. More often than not, products are delivered from the manufacturer's warehouse. That makes sense – it's practical, quick and cheap. The warranty and after-sales customer support have to be provided by the manufacturer and its servicing network. Ultimately, the product price is also determined by the manufacturer itself. In short, the online retailer is an intermediary, whose role is much smaller than in classic sales, giving the impression that the shopper and the manufacturer communicate without any intermediary at all.
Why I advise against copying classic sales' paths and applying them online?
Manufacturers who go down this path and offer their products in countless online stores are faced with the issue of price management. Online stores are not several miles apart, but only a few clicks. Shoppers can thus easily find stores that offer the same product for a lower price. And distance doesn't matter; the store can even be abroad.
Now let us take a look how this works in practice. The Samsung UN32EH4003 television set is listed at Amazon.com without a price. Instead, it says "To see our price, add this item to your cart." The shopper can only see the price after adding the product to the cart where it says that their price is lower than Samsung's recommended retail price, so Samsung does not want it to be public.
If you think that the two retail giants Amazon and Samsung have adopted a successful sales model and that this approach is a good idea, I suggest googling "UN32EH4003". You will get hits for this TV at samsung.com, amazon.com, digitaltrends.com, walmart.com, bestbuy.com, cnet.com, ebay.com, electronicexpress.com and conns.com. Each site displays a different price. Samsung doesn't control anything; it just limits sales via online retailers who are big enough to be controlled.
Which one of these platforms will end up selling the TV? The one with the fastest and more flexible service, and with the lowest price point. This is why you will not find this TV among the bestsellers at Amazon.com.
Similarly, Google doesn't favour the offerings of the same product at various websites with an identical photo and descriptions. For the browser, this is just a copy of one and the same site, and is therefore punished by a lower rating. If someone looks up LCD TVs, those pages will not be among the top hits, I am sure of it. Now you have another reason why it is better to be the direct retailer online.
However, even though Samsung and other similar retailers did not adapt to the new situation, smaller American business saw their chance in selling their products and services exclusively via Amazon – with great results.
Example from Slovenia, Europe:  enaA.com offers you the Samsung 32H4000 with the lowest price guarantee.