By
Aljoša
, October 18th, 2016 |
Society
,
Startup
|
0 Comments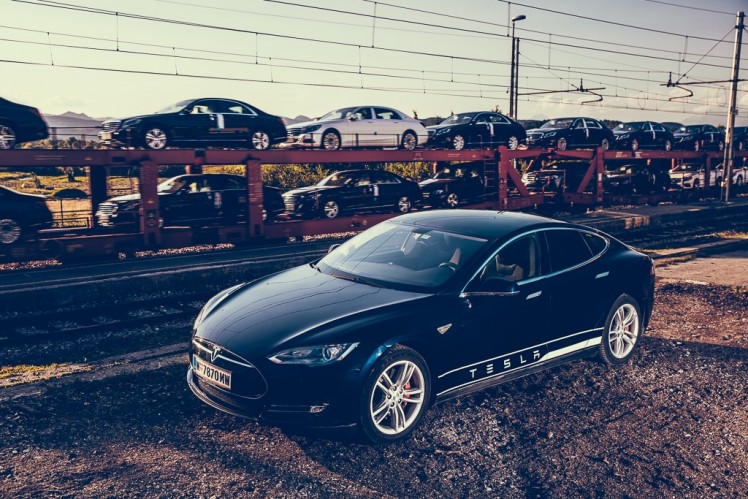 I spent the end of September in Silicon Valley. If the only thing you know about Google, Facebook, and Apple is that the first is a browser, the second a social network, and that the third makes smartphones and laptops, then you're missing out. All these companies and a host of others are deeply involved in artificial intelligence, virtual reality, cars and more.
I left San Francisco airport and headed for San Jose by ordering an Uber. Uber cars have their own space at the airport where they pick up and drop off passengers, so as not to mingle with other taxi drivers. Even though traditional taxi drivers are on average almost twice as expensive, I think they still get at least ten times the number of passengers compared to Uber drivers. It stands to reason that only a small number of passengers, flying to Silicon Valley, actually have an Uber app on their smartphone, which is essential for calling one. Furthermore, I had the chance to see how traditional taxi drivers still dominated the space in front of the hotel and on the city roads. Uber is increasing its presence, but not nearly as fast as we would like to believe when we fret about taxi drivers losing their jobs overnight.
San Jose has transformed itself from a farming town into a global hub. Because the people wanted more. Because they wanted change.
All the largest car manufacturers in the world are moving parts of their R&D departments to Silicon Valley. Even though self-driving cars are already on the roads and it seems electric motors have emerged as clear winners, this is only the beginning. Will we still be buying cars or will we prefer to rent them? Will self-driving electric cars really be the only vehicles left on the road? What will they be like? What do the customers of the future want? What kind of solutions can manufacturers offer? This is why Silicon Valley is abuzz. Everyone is looking for the best user experience and computer software to run the new cars. Even the Chinese have come here. In a major way. They are buying up enormous areas for their companies and for their testing grounds. They went all out and bought NASA's hangers. It is clear they want to seize the opportunity and become the automotive superpower of the future, when petrol and diesel internal combustion engines will no longer dominate the roads.
The world is not only changed by new technologies, but also by each passing generation. Partially because they don't particularly like the things their parents thought most important, and partially because of a sense of urgency. They need to be concerned with how they'll live in 70 or 80 years; they know that if nothing changes, their future holds a planet covered in at least two meters of plastic bottles where water and air are only available on prescription. They are aware they need to improve the way they exploit natural resources, which is why they find sharing things, when they don't need to own them, second nature. The sharing economy has also caught on in more conservative business ventures, such as lending office space. WeWork is aiming to lend out approximately a million workspaces around the world by the end of 2017. As of late 2014, they had spaces at 27 locations. By the end of 2015, the number rose to 54. They were even awarded the title Most Innovative Company of the Year. They are currently opening seven to eight new locations per month. Anyone who rents a space with them becomes a member of a club. People from various companies who lease workbenches from them, socialize and help one another. The incredible melting pot of freelancers, start-ups, and small-business owners is already being further expanded by employees from large companies, like Pepsi Cola and Samsung. They want their workers to learn the business culture of the new generations, find potential co-workers and business partners.
At the grand opening of the – for now – fully Slovenian-owned ABC Global Home company in San Jose, a representative of the city, who visited Maribor 24 years ago, also said a few words. Her duty back then was to teach us how to transition from socialism to a market economy. She was visibly happy about how far we've come, that we came to her country and her city, and that we in turn can do something for them. She took the fact that we made it as something for granted. She was no longer our teacher, instead welcoming us as equal partners. After all, when she was born, her native San Jose was also not much more than a farming town. Today, it is one of the ten largest cities in the US and the capital of Silicon Valley. The rapid growth of high tech companies and the development of the electronics industry turned it from a farming town into a global hub at the turn of the millennium.
Because the people wanted more. Because they wanted change. Because they invested themselves, their strength, visions, energy and passion. There's nothing you can't accomplish with that! With only that!
First published in MANAGER FINANCE 13.10.2016 http://manager.finance.si/8850122/Aljo%C5%A1a-Domijan-Kako-smo-Slovenci-pri%C5%A1li-v-Silicijevo-dolino 
Photo: Igor Domijan, Aguatera