By
Aljoša
, February 25th, 2016 |
Technology
|
0 Comments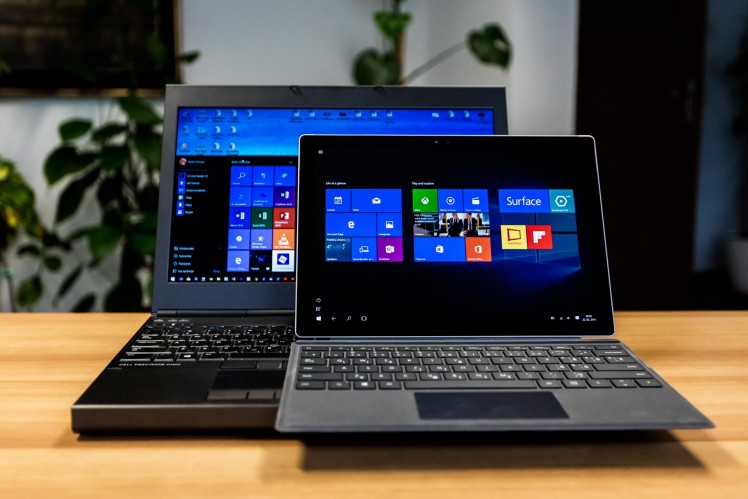 When Microsoft started selling MS Surface Pro 4 tablets/notebooks with an announcement that this was the right choice for directors and other executives who travel a lot and need a reliable tablet with the capacity of a computer, I immediately asked for this tablet for testing purposes. Until the conclusion of this test and submission of the article to the editor, I was following the news of how Microsoft has been beating the competition with Surface Pro 4 and reading about other tests.
Well, here comes the first real director's test.  As a startup investor, I need a laptop to access networks of a large number of companies with whom I cooperate; access to analytical data on the operations of enaA.com, the largest online retailer in the region; access to a large number of bank accounts and the stock exchange; graphic software to review the marketing materials sent for approval; several Facebook, Twitter and LinkedIn profiles; MS One Drive, MS OneNote, Dropbox, Skype and more. Let me tell you that I use no less than six Internet browsers for my work. In short, I am a very busy user who needs a director's convenience, a screen for a graphic designer and technology for an engineer. At the same time.
Do you know six Internet browsers?
Top Design and AI
In several months, this kind of computer will be an obligatory purchase for every manager. I am saying "this kind", because Microsoft is bound to get copycats. With MS Surface Pro 4, managers have got a device to take them to the next technological period. By all means, the device is a designer eye candy, one that your partners will notice at every meeting. The manufacture is flawless. Every detail has been taken care of.
What is more, it has built-in artificial intelligence: you can give orders to Cortana in English. Find this, find that, open enaA.com website, today's presentation… Yes, this is not a movie. At the same time, Cortana diligently records your choices and manner of working, so that your cooperation with your digital personal assistant is becoming ever more smooth.
Light
I carry my laptop with me at all times. But my current laptop – though it is a bit more capable than MS Surface Pro 4 – weighs no less than 3.5kg. I hate to leave it in the car, so I sometimes take it with me when I go for a cup of coffee with someone. It looks rather odd, but it is preferable to having it stolen.
Microsoft Surface Pro 4 weighs only 1.1kg, keyboard included. In addition, because it is smaller and thinner, I can put it in my bag and carry it with me without anyone noticing. Truth be told, even I forget that I have been carrying it around.
A Battery That Lasts… and Lasts
I have worked on laptop battery power nearly all the time. When I was writing this article and doing some other things, the battery lasted five hours. When I was surfing the Internet over the weekend, I browsed Facebook and read the news, and the battery lasted an incredible 8 hours. The batteries are re-charged in a good two hours.
Excellent Keyboard
At meetings, I have invariably used Microsoft Surface Pro 4 as a tablet. The one touch works flawlessly. More or less, I have been using the keyboard when travelling or at home. The keyboard attaches itself to the tablet with a strong magnet. And it holds! Surprise fact: the keyboard is big, robust and excellent for typing. The illuminated keys are pleasant to touch and the spaces between them are big. I wrote nearly the entire article with this keyboard.
The Screen
At 12.3 inches, the screen is a bit too small for my taste. Yet, had the screen been bigger, it would be less easy to handle and would not fit into every bag. At the workplace, you can connect it to a docking station with two large external monitors of your choice.
The Docking Station
The docking station is one more proof that this is a professional device. At your workplace, simply connect it to the docking station to which you can connect two large external monitors of your choice and there you go, you have a capable laptop in front of you.
Windows 10
Microsoft Surface Pro 4 would not be as good as it is without Windows 10. Personally, I think Windows 10 looks even more attractive on a 12.3 inch screen, although Windows 10 works equally well on both devices. Well, at least I have used it in the same way.
Final choice
Approximately two years ago, I was deciding between an Apple MacBook and a MS Windows laptop.  At that time, I concluded the following:
Apple MacBook is more modern, attractive-looking, lighter and more user-friendly. If what you do for your work needs a single screen – and this suffices most designers, authors, programmers, developers and many managers – then you are bound to be delighted with it. Managing all of the applications on the screen (or up to four screens) with your fingers or a mouse is excellent. It gives a new dimension to creativity. If you use any special software (mostly for design, video processing, photography, etc.) then I have no doubts about Apple being the perfect choice.
Yet for a heavy user – i.e. a heavy miner who constantly switches between at least five websites, uses five additional applications, needs a safe access anywhere to any of the background services of enaA.com, manages several projects which include collaborators from several companies – Apple does not provide sufficient transparency and efficiency. The problems with online banking were the final straw and I decided to keep on using a laptop with the classic MS Windows and Office combination. Working on two laptops with different operating systems does not work well in the long run. I cannot say that I was not sorry when I was erasing my data from Apple's MacBook, but that how things are.
This time, I have made a comparison with my two months' old laptop with the following configuration DELL Precision M4800  and MS Surface Pro 4 12.3″ /2736 x 1824 / i5 / 4 GB / 128GB / INTEL HD 520 / WIN 10 PRO.
MS Surface Pro 4 has everything I liked two years ago with the Apple MacBook and a MS Windows computer. Therefore, there is no doubt that today I would buy MS Surface Pro 4: it is a light, yet robust and a top user-friendly product which allows you to work transparently with several applications and switch effortlessly between different environments. In short, it has everything I need. This is a work computer, a laptop and a tablet – 3 in 1. It is something I need as a director, as an IT professional and as a person who works with graphic designers.
Of course, I am going to buy the more capable model MS Surface Pro 4 12.3″/2736 x 1824/ i7 /8 GB/256GB/INTEL HD 520/WIN 10 PRO