By
Aljoša
, July 29th, 2015 |
Sales
,
Startup
|
0 Comments
Who will be the largest and most influential player in the fashion industry? If you immediately thought of Chanel, Armani, Prada, Dior, Burberry or other high-end brands, or retailers such as H&M or Zara, then it is clear that you are out of the online fashion loop.
Downtrend case
You should find similar story in all countries in which companies pay too little attention to online. The fact is that the internet is an ever-shifting market and trends are bound to turn around eventually; in fact, in the past weeks my discussion partners from the Slovenian fashion industry tried to convince me that lately customers are increasingly seeking out brick and mortar stores. They supported this claim with the fact that the online store Stilago recently shut down after five years of operations, and that from 10 July Fashion Days will also terminate its presence in Slovenia due to some undisclosed business changes. Being the indefatigable online sales promoter that I am, I am concerned by such a turn of events, because this will lead to a temporary standstill of the fashion offering on Slovenian internet sites.
The big players apparently don't get it. Sportina Bled, which in 2009 generated sales of 77 million euro and once spearheaded the clothing retail industry in the country, generated sales of only 40 million euro in 2014. Instead, the top position went to Magistrat International (Galerija Emporium owner) which has seen a gradual decline of sales from 2011, too. (the 2014 figures have not yet been published). However, since the people of Slovenia still wear clothes while going about their daily business, it is clear that a shopping shift must have taken place: they now shop at online retailers from abroad. I do not think it is good idea to sit around, waiting for the tide to turn and for the customers to return to conventional stores.
Global growth
There are three notable European companies competing on the global fashion market: First there is the Germany-based Rocket Internet Group, the second is the British Asos and the third the Italy-based Yoox which has just recently acquired the fourth competitor Net-A-Porter. It looks like in 2016 they will be joined by Style.com, which is currently a website featuring fashion photography and fashion articles, and owned by the Conde Nast company which publishes the famous Vogue – not exactly a fashion rookie, right?
These online retailers reported that their sales figures have skyrocketed and apparently none of them have problems coming up with the capital necessary for the fast growth which is required to win this race.
On its website, Rocket Internet boldly declares that it sets out to become the largest global online platform outside the USA and China. The proof that this statement is more than just wishful thinking is their spin-off company Zalando – the largest fashion item retailer in Europe. In 2014 Zalando recorded a jump from 1.7 billion euro to 2.2 billion euro, for the first time wrapping up the business year with a healthy profit of 47 million euro. The company began its sales operations in 2008 in Germany, and currently runs subsidiaries in 13 European countries, its total worth valued at 7.7 billion euro. Rocket Internet is the lead shareholder in the Global Fashion Group which recently announced that it secured 150 million euro in new funding to purchase the Brazilian online retailers Kanui and Tricae.
Yoox too is aware that there is a market to be conquered beyond Europe. After acquiring Net-a-Porter, the company expects large growth in China which is said to become one of their top ten markets already this year. In 2014, 24 million visitors per month generated sales in the amount of 1.3 billion euro. Combining fashion and technology, the retail giant is valued at 1.8 billion euro which is not much considering that Yoox and Net-a-Porter were among the first online fashion stores around.
But I guess there is more to it than just business results. In 2014, Asos generated a little less than 1 billion euro in sales, driving its value to around 7 billion at the beginning of this year. Later it dropped to 3 billion and currently stands at 4 billion euro. Last year the growing strength of the British pound made Asos less competitive on the Russian and Australian market. This led to a drop in sales and lower prices in turn affected the sales performance. Even though online retailer Asos boasts of cultivating shoppers with high customer loyalty, the company quickly realized that the modern shopper is not prepared to choose loyalty over price.
Making room for new players
There is a large gap in online fashion which should be filled by start-up companies from all regions.

Styliff, a young company (for the time being still mostly Slovenian owned), designed an app for trying on garments found online before committing to a real purchase. More specifically: you can dress one of the photos that you previously saved on your smartphone in the desired garment. Naturally, you can share your experience with your friends, ask for their opinion and commit to a purchase only when you are absolutely sure that this is the outfit for you. But watch out – according to the first results shoppers buy and spend more when using this app! This new way of shopping for clothes therefore appeals to online retailers and has made the Styliff team feel more than welcome in retailers' offices. Their brand offer now includes clothes by MaxMara, Diesel, Boss, Ralph Lauren, Moschino, DKNY, Alexander Wang and others. They are among the most successful and most observed companies in ABC Accelerator Smart Cities program with estimated value 3 to 4 million euros.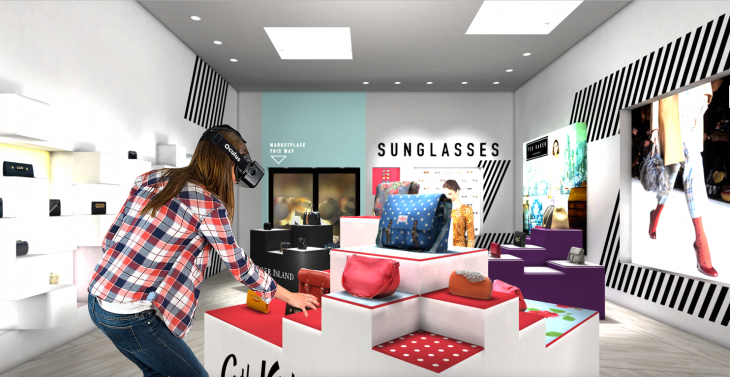 Another innovative way of shopping was showcased by Trillenium . A combination of virtual reality, computer games, mobile technology and 3D technology resulted in a virtual store where you don't browse but instead walk around the online store, choosing items that catch your fancy. Immediately recognising the company's potential, Asos pledged funds and commissioned the first virtual stores. This is a big step forward for the e-tailer without a single brick and mortar store. And perhaps this concept will be their competitive edge. Enough for Trillenium estimated value 3 million euros.
Now, who are you going to wear tomorrow?